Flexrite Swivel Test Coupling 2" TNC-0050
2" Double wall pipe coupling with interstice test port suitable for Flexrite EN14125 Double Wall Petroleum Pipe Systems.
The stainless steel coupling with swivel nut is internally swaged to secure it to the pipework. Finished thread connection 2" NPSH including Viton Seal.Very easy to use simply cut the pipework to length, no requirement to remove the outer pipe jacket. Both primary and secondary pipe is swaged in a single action into the coupling. Test port allows access to the interstice for monitoring and leak detection. Uses standard SPC faceplate on coupling machine for swaging.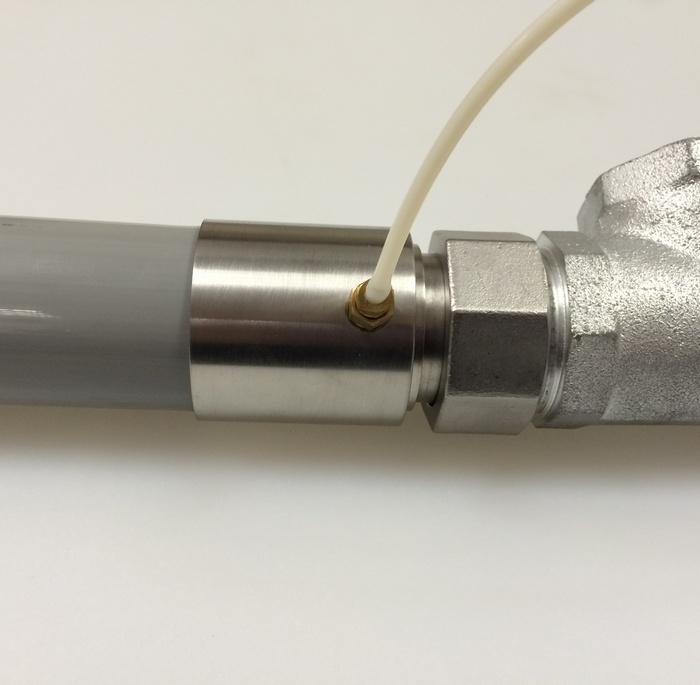 Use thread adapters, elbows or tee's to continue pipework.
2" Thread adapters;
SMA-2020B - 2" Bspt male thread adapter
SMA-2020 - 2" NPT male thread adapter
SFA-2020B - 2" Bspt Female thread adapter
SFA-2020 - 2" NPT Female thread adapter
SEF-2020B - 2" Bspt 90 degree elbow female thread
SEF-2020 - 2" NPT 90 degree elbow female thread
STF-2020B - 2" Bspt tee fitting female thread
STF-2020 - 2" NPT tee fitting femal thread
Write a review
Your Name:
Your Review:
Note: HTML is not translated!
Rating:
Bad
Good
Enter the code in the box below: