Composite Covers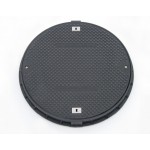 Composite Manhole Covers are manufactured from a resin and glass fibre mixture similar to fibreglass. With the publication of the new EN standard in July 2015 composites can be tested and certified to meet the European Standard and will when the standard becomes harmonised in February 2017 be able to be CE marked. This will allow composite manhole covers and gully tops to be used in all on and off highway applications. Composites offer many advantages over traditional cast or ductile iron covers such as lightweight, reduced risk of theft, non-conductive, rust-free and non-slip. Composite covers also use upto 50% less energy in their production compared to cast and steel covers so are an environmentally considerate alternative. Such covers can be used in numerous applications some of the most common presently are;
Fuel Stations - The original market for which composite covers were developed because of the need for large watertight covers that were easily removable by station staff without the need for special lifting equipment.
Construction & Utility - Increasingly composites are finding their way into general construction for traffic signals, electricity, water and gas distribution, security sensitive applications, watertight applications and telemetry equipment applications. Or simply large covers which need to be removed on a regular basis and where weight of traditional cast iron covers would be problematic.
Modular Covers (large Span) - Modular covers solve the challenge of how to cover a hole or chamber where a single cover would require lifting equipment to assist in its removal. By making the overall cover into a number of smaller units suspended upon a structural frame manual removal for day to day access and inspection maybe achieved without the need for lifting equipment.
Please select the category which best meets you application to see the covers within our range that might be applicable.
Refine Search