Modular Covers (Large Span)
Modular Manhole Covers - Access Solutions
Forecourt Solutions are pleased to offer two alternative modular cover ranges. Such modular assemblies are ideal for use where only partial access is normally required and intermittently complete access. In such applications single piece covers would be prohibitively expensive and usually required assisted lifting mechanisms which can be avoided using modular techniques. Such covers also provide a significant HSE advantage by minimising the open entry size.
Forecourt Solutions ranges include an all composite version available in a range of sizes reflecting those commonly required in the utility industries. Alternatively our custom design service is able to provide an huge range of sizes of composite covers within modular galvanised steel frames tailored to meet you individual requirements.
Type 1 - Modular Composite Covers with a Galvanised Steel Support Frame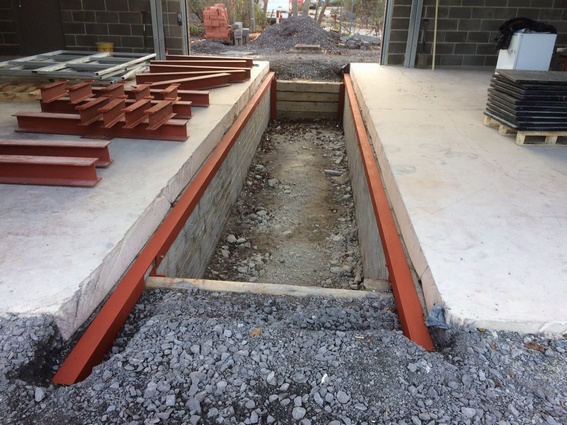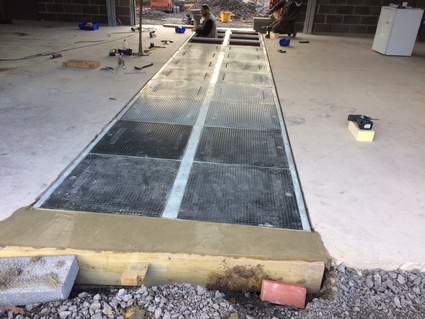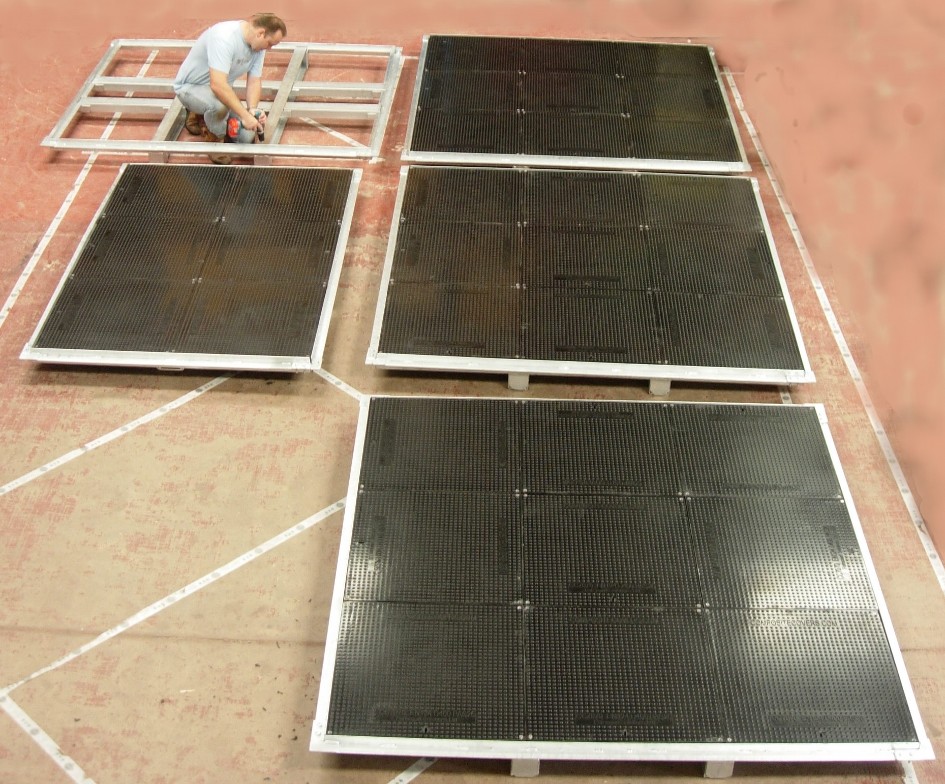 These covers are an excellent alternative to traditional infill covers to provide access to underground chambers and ductwork systems. Available in virtually any size each cover module is individually removable without mechanical assistance to allow access or inspection. Complete access can be achieve one all covers are removed by further removal of the main and sub beams. Load bearing capabilities can be designed to suit you anticipated cover loading requirements. Some recent uses have included; railway drawpits, recycling centres, covers over mill workings, trench and duct covers in large industrial plants, airport concourse access covers, shipyard duct access covers, motorway communications chamber covers and new build school electrical cable ducts. The applications are however almost limitless, we will be happy to discuss your project requirements and advise the most suitable cover configuration to meet your requirements.
Composite Modular Range - Features and Benefits
Lightweight and easy to handle

Water resistant options

Non slip surface finish

Non Corroding

Non Sparking

Non Conductive

Covers finished flush with finished surround

High security locking options available to restrict unauthorised access

Customer specific labelling and identification

In stock - Fast Delivery

Built to size onsite - compact shipping
Type 2 - Composite Covers with a Modular Composite Frame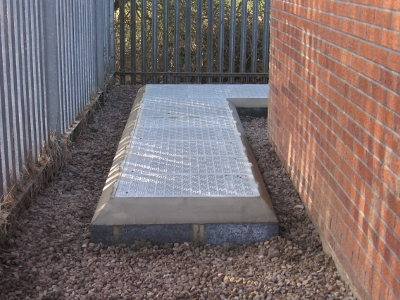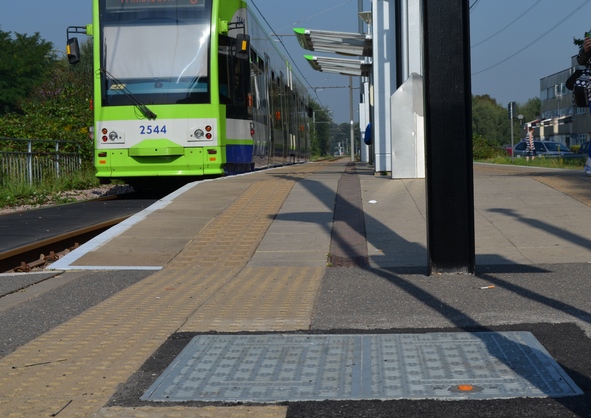 These covers are ideally suited to industrial or utilty applications where long trenches with or without bends are required to be covered. Load rated to B125 or greater upon request such covers offer a cost effective alternative to traditional concrete trench covers but provide access for maintenance without the need for cover lifting equipment.
Available sizes
| | | | | | |
| --- | --- | --- | --- | --- | --- |
| Description | Part Number | Clear Opening Size | Cover Thickness | Outside Frame Size | Frame Depth |
| | | | | | |
| Single section modular | CM-860-470-B125 | 800 x 410 mm | 49 mm | 1010 x 620 mm | 72 mm |
| Two section modular | CM-860-940-B125 | 800 x 880 mm | 49 mm | 1010 x 1090 mm | 72 mm |
| Three section modular | CM-860-1410-B125 | 800 x 1350 mm | 49 mm | 1010 x 1560 mm | 72 mm |
| Four section modular | CM-860-1880-B125 | 800 x 1820 mm | 49 mm | 1010 x 2030 mm | 72 mm |
| Five section modular | CM-860-2350-B125 | 800 x 2290 mm | 49 mm | 1010 x 2500 mm | 72 mm |
| Six section modular | CM-860-2820-B125 | 800 x 2760 mm | 49 mm | 1010 x 2970 mm | 72 mm |
| Seven section modular | CM-860-3290-B125 | 800 x 3230 mm | 49 mm | 1010 x 3440 mm | 72 mm |
| | | | | | |
| Two section modular | CM-1760-470-B125 | 1660 x 410 mm | 49 mm | 1870 x 620 mm | 72 mm |
| Four section modular | CM-1760-940-B125 | 1660 x 880 mm | 49 mm | 1870 x 1090 mm | 72 mm |
| Six section modular | CM-1760-1410-B125 | 1660 x 1350 mm | 49 mm | 1870 x 1560 mm | 72 mm |
| Eight section modular | CM-1760-1880-B125 | 1660 x 1820 mm | 49 mm | 1870 x 2030 mm | 72 mm |
| Ten section modular | CM-1760-2350-B125 | 1660 x 2290 mm | 49 mm | 1870 x 2500 mm | 72 mm |
| Twelve section modular | CM-1760-2820-B125 | 1660 x 2760 mm | 49 mm | 1870 x 2970 mm | 72 mm |
| Fourteen section modular | CM-1760-3290-B125 | 1660 x 3230 mm | 49 mm | 1870 x 3440 mm | 72 mm |
Modular composite manhole cover and frame clear opening dimensions 800 x 410 mm. Consisting of si..

Price:


£100.00

Modular composite manhole cover and frame clear opening dimensions 800 x 880 mm. Consisting of 2 ..

Price:


TBA

Modular composite manhole cover and frame clear opening dimensions 800 x 1350 mm. Consisting..

Price:


TBA

Modular composite manhole cover and frame clear opening dimensions 800 x 1820 mm. Consisting..

Price:


TBA

Fully Flexible Service for the supply of large modular covers to client dimensions an..

Price:


TBA

A 450 x 450mm Clear Opening Composite Manhole Cover suitable for EN124B125 load applications typi..

Price:


TBA

A 600x450mm clear opening composite manhole cover and frame load rated to 40 Ton D400 for applica..

Price:


TBA

Modular cover consisting of two lightweight composite 450 x 450mm covers mounted within a galvani..

Price:


TBA

Modular cover consisting of Two lightweight composite 600 x 450mm covers mounted within..

Price:


TBA

Modular cover consisting of Three lightweight composite 450 x 450mm covers mounted with..

Price:


TBA

Modular cover consisting of Three lightweight composite 600 x 450mm covers mounted with..

Price:


TBA

Modular cover consisting of Four lightweight composite 600 x 450mm covers mounted withi..

Price:


TBA

A 600 x 600 mm clear opening manhole cover suitable for EN124 B125 load applications typically wi..

Price:


TBA

A 600x600mm clear opening composite manhole cover and frame load rated to 40 Ton D400 for applica..

Price:


TBA

A 600x900mm clear opening composite manhole cover and frame load rated to 12.5 Ton B125 for appli..

Price:


TBA

Modular cover consisting of two lightweight composite 600 x 450mm covers mounted within a ga..

Price:


TBA

Modular cover consisting of two lightweight composite 600 x 450mm covers mounted withi..

Price:


TBA

Modular cover consisting of two lightweight composite 600 x 600mm covers mounted within a galvani..

Price:


TBA

Modular coverconsisting of two lightweight composite 600 x 600mm covers mounted within a gal..

Price:


TBA

Modular cover consisting of three lightweight composite 600 x 450mm covers mounted within a ..

Price:


TBA

Modular coverconsisting of three lightweight composite 600 x 450mm covers mounted within a galvan..

Price:


TBA

Modular cover consisting of three lightweight composite 600 x 600mm covers mounted within a galva..

Price:


TBA

Modular coverconsisting of three lightweight composite 600 x 600mm covers mounted within a galvan..

Price:


TBA

Modular cover consisting of four lightweight composite 600 x 600mm covers mounted withi..

Price:


TBA

Modular coverconsisting of four lightweight composite 600 x 600mm covers mounted within..

Price:


TBA

750mm Clear Opening Square Composite Manhole Cover and Frame - Load rated to B15 (12.5 tons ..

Price:


TBA

750mm Clear Opening Square Composite Manhole Cover and Frame - Load rated to D400 (40 tons ) ..

Price:


TBA

Modular cover consisting of two lightweight composite 750 x 750mm covers mounted within a galvani..

Price:


TBA

Modular coverconsisting of two lightweight composite 750 x 750mm covers mounted within a galvanis..

Price:


TBA

Modular cover consisting of three lightweight composite 750 x 750mm covers mounted within a galva..

Price:


TBA

Modular coverconsisting of three lightweight composite 750 x 750mm covers mounted within a galvan..

Price:


TBA

Modular cover consisting of four lightweight composite 750 x 750mm covers mounted within a g..

Price:


TBA

Modular coverconsisting of four lightweight composite 750 x 750mm covers mounted within a ga..

Price:


TBA

Modular cover consisting of four lightweight composite 600 x 450mm covers mounted withi..

Price:


TBA

Modular cover consisting of four lightweight composite 600 x 450mm covers mounted within a g..

Price:


TBA

Modular cover consisting of six lightweight composite 450 x 450mm covers mounted within..

Price:


TBA

Modular cover consisting of two lightweight composite 600 x 450mm covers mounted within a galvani..

Price:


TBA

Modular cover consisting of two lightweight composite 600 x 450mm covers mounted within a galvani..

Price:


TBA

Modular cover consisting of four lightweight composite 600 x 600mm covers mounted withi..

Price:


TBA

Modular cover consisting of four lightweight composite 600 x 600mm covers mounted withi..

Price:


TBA

Modular cover consisting of six lightweight composite 600 x 450mm covers mounted within..

Price:


TBA

Modular cover consisting of six lightweight composite 600 x 450mm covers mounted within..

Price:


TBA

Modular cover consisting of six lightweight composite 600 x 600mm covers mounted within a ga..

Price:


TBA

Modular cover consisting of six lightweight composite 600 x 600mm covers mounted within a ga..

Price:


TBA

Modular cover consisting of eight lightweight composite 600 x 600mm covers mounted within a ..

Price:


TBA

Modular cover consisting of eight lightweight composite 600 x 600mm covers mounted within a ..

Price:


TBA

Modular cover consisting of nine lightweight composite 450 x 450mm covers mounted within a g..

Price:


TBA

Modular cover consisting of nine lightweight composite 600 x 450mm covers mounted withi..

Price:


TBA

Modular cover consisting of nine lightweight composite 600 x 450mm covers mounted withi..

Price:


TBA

Four Part Modular cover consisting of four lightweight composite 750 x 750mm covers mounted withi..

Price:


TBA

Four Part Modular cover consisting of four lightweight composite 750 x 750mm covers mounted withi..

Price:


TBA

Modular cover consisting of six lightweight composite 750 x 750mm covers mounted within a ga..

Price:


TBA

Modular cover consisting of six lightweight composite 750 x 750mm covers mounted within a ga..

Price:


TBA

Modular cover consisting of eight lightweight composite 750 x 750mm covers mounted within a ..

Price:


TBA

Modular cover consisting of eight lightweight composite 750 x 750mm covers mounted within a ..

Price:


TBA

Modular cover consisting of nine lightweight composite 600 x 600mm covers mounted within a g..

Price:


TBA

Modular cover consisting of nine lightweight composite 600 x 600mm covers mounted within a g..

Price:


TBA

Modular cover consisting of twelve lightweight composite 600 x 600mm covers mounted within a..

Price:


TBA

Modular cover consisting of twelve lightweight composite 600 x 600mm covers mounted within a..

Price:


TBA

Modular cover consisting of nine lightweight composite 750 x 750mm covers mounted within a g..

Price:


TBA

Modular cover consisting of nine lightweight composite 750 x 750mm covers mounted within a g..

Price:


TBA

Modular cover consisting of twelve lightweight composite 750 x 750mm covers mounted within a..

Price:


TBA

Modular cover consisting of twelve lightweight composite 750 x 750mm covers mounted within a..

Price:


TBA

Modular cover consisting of sixteen lightweight composite 750 x 750mm covers mounted within ..

Price:


TBA

Modular cover consisting of sixteen lightweight composite 750 x 750mm covers mounted within ..

Price:


TBA
Showing 1 to 66 of 66 (1 Pages)