Containment Chambers
The ChamberTite containment Chamber Range includes;
Tanks Sumps
Dispenser Sumps
Below Ground Fill Points
Duct and access chambers
ChamberTite Tank Sumps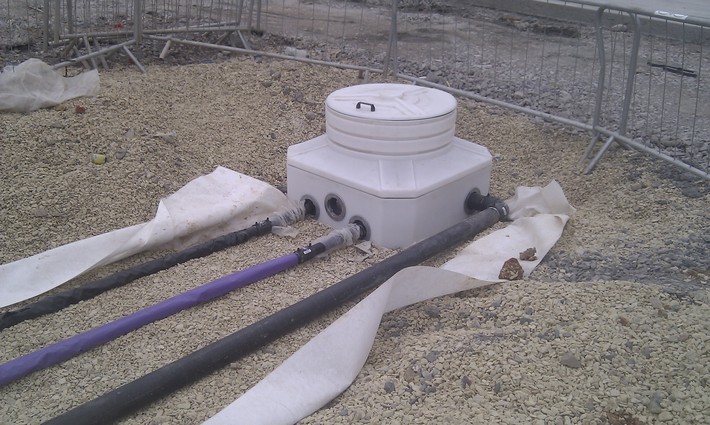 The ChamberTite tank sump provides a watertight vacuum testable chamber for all your tank top pipework connections with variable height options between 630 and 1730mm. Ideally suited for installation below our CC0900D400 900mm clear opening lightweight watertight composite manhole cover the chamber has a riser width of 808 mm to allow the safe removal of large tank man-way covers.
Base dimensions are designed to minimise freight costs and are available in 1150 x 1150 mm as standard. Other dimensions available upon request. The three part chamber consists of a base, adjustable height riser and watertight lid. Manufactured from strong rotationally moulded polyethylene the chamber will not corrode, is easy to cut down to suit site burial depths and drill to fit watertight ChamberTite entry boots. Entry boot seals can be provided for your pipe duct and electrical cabling entry requirements.
Tank Sump Height Ranges
Shallow base (400 mm) — 630, 730, 830mm (Excluding Lid)
Medium base (650mm) — 880, 980, 1080 mm (Excluding Lid)
Each riser has three height adjustment levels. Should deeper chambers be required please ask.
Chambers can be manufactured in your preferred colour to order or are available as standard in white. Each chamber is supplied with all required fixings for its installation with the exception of fixings to mount the unit upon the tank collar. We will be happy to assist in the sourcing of suitable gaskets and compression rings if required.
The ChamberTite range also incorporates a range of dispenser and filling point sumps if required.
Refine Search