Tank Sumps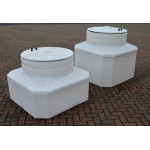 Forecourt Solutions is pleased to announce the release of of our own range of ChamberTite Tank Sumps to enable the installation of pipework, submersible pumps and other equipment above petroleum storage tanks. The tank sumps are suitable for use in both suction and pressure applications and are fully vacuum testable.


Features & Benefits
Two piece base and riser simplifies installation by improving access.

Wide throat riser providing 880 mm of clear access.

Available with two base heights (400 and 650 mm) and three site reduceable riser heights to facilitate maximum flexibility for tank burial depths

Simple easy to use pre installed O ring seal between base and riser with fitted threaded inserts. Quick and easy to assemble.

Watertight rota lock lid with replaceable seal.

Water and fuel tight entries to prevent site contamination using ChamberTite range of entry boots

Moulded from high quality virgin polyethylene for high stability and excellent compatability in all ground conditions

Sized to maximise

available space whist minimising shipping cost. 80 x 400mm base or 60 x 650mm base tank sumps can ship in a 40' container.

Compatable with Forecourts 900mm circular manhole cover
Design Concept
Each ChamberTite tank sump is designed to provide maximum flexibility to install pipework and other associated equipment over petroleum storage tanks.

Quality
Forecourt Solutions undertakes rigorous material testing on all our products to ensure the quality of our finished items.

Available stock sizes
Generally our standard tank sump with either standard or extended base section will suit most applications. If however your site conditions required alternative sizes please contact us to discuss.
Showing 1 to 4 of 4 (1 Pages)