Ground Source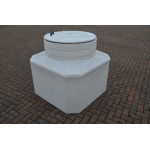 The Chambertite manifold chamber provids a watertight vacuum testable chamber for all your piping connections with variable height options between 630 and 1730mm.
Strong yet lightweight
Watertight & cost effective
Easy to install
Will not crack or corrode
Available in a range of sizes
Manufactured from strong rotationally moulded polyethylene the chambers will not corrode. The riser can be easily cutdown to suit site burial deoths and the base is easily drilled to fit watertight ChamberTite duct boots and pipe glands. This maintains the watertightness of you chamber after fitting pipes and electrical connections. Once installed all equipment is accesible within the chamber for maintenance and inspection.
Showing 1 to 4 of 4 (1 Pages)