Seismic Monitoring Chambers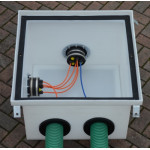 Seismic Chambers form part of the ChamberTite range of containment sumps.
We have supplied a large number of chambers for seismic monitoring around so called "Fracking" installations to monitor for seismic activity. Our composite manhole covers do not restrict data transmission so through cover data transfer is possible avoiding the need to open chambers to interrogate apparatus. Chamber and pipe entries are watertight.
Showing 1 to 6 of 6 (1 Pages)