Ducts - Twin wall corrugated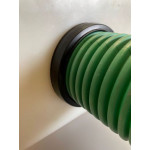 Our range of Cable Entry Bulkheads are designed to alleviate the problems of vermin, water and vapour ingress into electrical draw pits, tank & dispenser sumps and other containment chambers that have electrical cable entries. It also prevents cross contamination between linked sumps.
The bulkhead is used in conjunction with a ChamberTite entry boot to provide a seal at the end of single or twin wall duct at the entry to the chamber. The bulkhead can be used either in new installations or as a retrofit upon existing installations. Various sizes of ducts can be accommodated one of the most common sizes being 110 mm twin wall. The number of glands capable of being fitted into the bulkhead is determined by the available space.
Design Concept
The Bulkhead System is supplied with sufficient cable glands and blanking plugs to fit all the pre drilled and tapped entries through the bulkhead this ensures the full watertight integrity is maintained. Bulkheads can also be fitted with vacuum or pressure test valves to enable the testing of cable duction assemblies in line with the Energy Institute recommendations. We can manufacture custom specific plates and gland combinations to suit specific sizes and types of cables such as fibre-optic or customer specific cables.
The ChamberTite duct seal range currently accomodates the following sizes of ducts.
AVAILABLE TWINWALL DUCT SIZES & COLOURS
Duct External Internal Length Colours Entry Boot Size Bellmouth
40 mm 32 50m Black CTB-3150 CBM-0040SB
50 mm 40 50m Black, Blue, Orange, Green, Yellow, Purple CTB-3150 CBM-0050SB
63 mm 50 50m Black CTB-0200 CBM-0063SB
90 mm 75 50m Black CTB-0300 CBM-0090SB
110 mm 94 6m Black, Orange, Green, Yellow, Purple CTB-0400/7450 CBM-0110SB
110 mm 94 50m Black, Blue, Orange, Green, Yellow, Purple CTB-0400/7450 CBM-0110SB
148 mm 125 6m Black CTB-0600 CBM-0148SB
160 mm 137 25m/50m Black CTB-0600 CBM-0160SB
178 mm 150 6m Black, Orange, Green, Yellow, Purple CTB-0700 CBM-0178SB
266 mm 225 6m Black, Orange, Green , Yellow, Purple CBM-0266SB
354 mm 300 6m Black, Orange, Green, Yellow, Purple CBM-0354SB
419 mm 369 6m Yellow CBM-0419SB
516 mm 450 6m Yellow CBM-0516SB
676 mm 589 6m CBM-0676SB
Colour Chart
Orange - Street Lighting/ Traffic Signals
Blue - Water Pipes
Purple - Motorway Comms
Black - Power
Yellow - Gas
Green - Fibre optic
4" (100mm) FlexRite Twin Wall Duct availablein coils of 50m . This flexible duct ..

Price:


TBA

110 mm ChamberTite Duct Fitting suitable for sealing a 94/110mm rigid or flexible duct into a wat..

Price:


TBA

51/2" or 140mm ChamberTite Entry Boot for sealing pipe, cables and ducts into Containment Ch..

Price:


£22.00
Showing 1 to 3 of 3 (1 Pages)