Cable Entry Bulkhead suitable for 7" (180mm) CTB-0700B
7" ChamberTite Duct Seal suitable for sealing a 7" or 180mm rigid or flexible conduit into a watertight chamber. Manufactured from nitrile rubber (BS 2751) entry seal complete with stainless steel fixings and galvanised steel clamp ring. The entry boots are suitable for direct burial and provide a flexible seal between duct and entry wall. As all fixings are made accessible internally within the chamber entry boot can be maintained whilst in service.
For additional security the duct seal is fitted with a bulkhead to prevent cross contamination in the event of a breach within the duct or other chamber. The bulkhead can be manufactured to meet your cabling requirements, depicted is a bulkhead with 8 x M20 gland entries and space for further glands for future expansion. Sufficient glands and blanking plugs for either option are provided as part of the kit.
Bulkhead can be fitted with a ring bolt to aid draw wire retention inside ducts for future use.
Further information available within our datasheet which is available for download below.
Installation instructions and dimensional drawings are also available below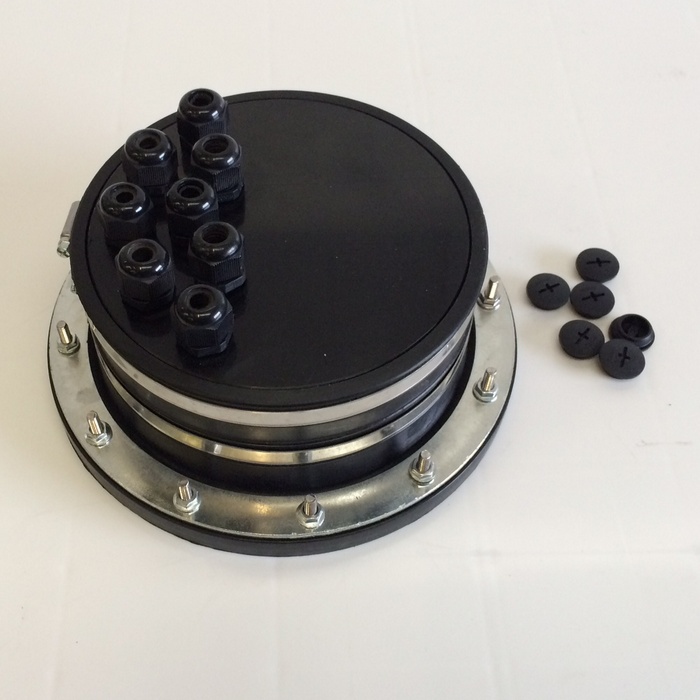 Write a review
Your Name:
Your Review:
Note: HTML is not translated!
Rating:
Bad
Good
Enter the code in the box below: